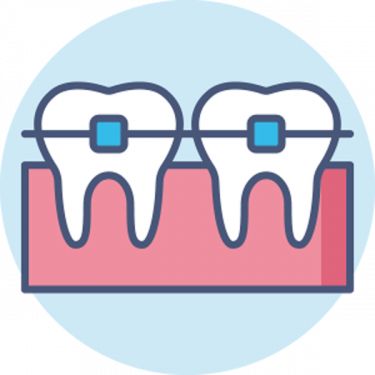 Connect with Narayana Super Speciality Dental and Implant Center for Braces and Aligners treatment
Braces and Aligners are both modern and traditional trays that are invisible, fit the teeth and straighten them.
Connect with Narayana Super Speciality Dental and Implant Center for Braces and Aligners treatment
What are Braces?
Braces are devices used to align and straighten teeth and help position them with regard to a person's bite. It also fixes the gaps between teeth.
CLEAR ALIGNERS
How many times have you wondered while scrolling through your recent party pictures, whether you would have looked better if you had a perfect smile? You want a dazzling smile but alas, you weren't so lucky to be born with it. But now, you have no reason to delay! The answer you are looking for is available right at our clinic, clear aligners!!
What are clear aligners?
These orthodontic devices are a series of thin, transparent trays which slip on your teeth. They are custom made to fit snugly on your teeth and are used to adjust and straighten them. They are an alternative to traditional braces, and use a gradual force to move your teeth without using any metal wires or brackets. Aligners of most reputed brands are made of medical grade polyurethane resin which is non toxic to the human body.
Why should you get your teeth straightened using aligners?
Health benefits – Straight teeth do not just look beautiful, they are also better for your health. Crooked and crowded teeth are harder to clean, even with regular flossing! Thus, they are more prone to plaque and decay.

Invisible – Conventional braces are made of metal or porcelain and may not appeal to you. You may have to speak to audiences daily, you may be a public figure, you may be conscious about appearance. Whatever the reason, you still have a right to a beautiful smile. Aligners are virtually invisible. Hence it's the right choice for you, whatever profession you may be in!

Hygiene – Since aligners are removable, you can brush and floss regularly even during treatment.

Can be done at any age – Aligners are designed keeping adults in mind and can be worn at any age of your life! No more regretting not getting the treatment in childhood.

Eat what you want – As you remove your aligners while eating, there is no restriction on the foods! So live life wholly while getting a healthy smile !!

Comfortable – These are generally more comfortable to wear because of its soft material, and less likely to hurt your gums and cheeks.

Fewer appointments – Aligners are predesigned by orthodontists and hence, require nil to minimal number of appointments.
Who does it benefit the most?
Adults and even senior citizens can get their teeth aligned using aligners.

Busy professionals who require infrequent appointments

Teenagers who are socially conscious about appearance
At Narayana Specialists dental Center , understand that dental health and perfect smiles should be attainable for all, and thus introduced the option of clear aligners for our patients. The process is extremely simple, and can be done in a minimal number of sittings. Contact us today to book a consultation with us and let us guide you to a beautiful smile.
Get your Braces and Aligners done by the best at Narayana Dental. To know more, contact us @ or Book your appointment here.